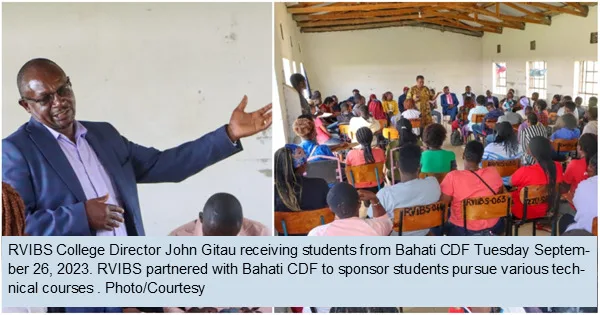 Story By: Communication Team
Rift Valley Institute of Business Studies (RVIBS) TVET College has partnered with Bahati NG-CDF to sponsor needy students pursue various technical courses.
Under the patronage of Bahati MP Irene Njoki, popularly known as Mrembo na Kazi, the students will enjoy full tuition scholarship in the leading TVET institute to equip them with technical skills.
RVIBS Director John Gitau said the move to partner with Bahati NG-CDF will ensure learners from needy families access college education.
"We partner with NG-CDF as a way to give back to the community. The college will subsidize fee for the students during the training period. Our urge and desire is to contribute in empowering our community. This training focuses more on skills in order to turn these students into job creators rather than job seekers," Gitau said.
The training will be in the fields of plumbing, electrical engineering, Hair dressing and Hospitality.
The students thanked their MP for the partnership terming it a moment in their lives.
"I am very happy because of what mheshimiwa has done. I had lost hope in proceeding with education but she gave me this opportunity. May she be blessed to help many more young people who have no money to further their education," one of the students said.
RVIBS College is the leading TVET Institute with its Maina Campus in Nakuru with eight schools; Journalism & Communication, Fashion Design, Hospitality, Cosmetology, ICT, School of Business, Engineering and the School of Health & Applied Sciences.
RVIBS has branches in Gilgil and Njoro.
Click here to choose an INTAKE